Our Charter: to breed Briards outstanding according to standards held on both sides of the Atlantic for conformation, working ability, temperament, soundness and performance.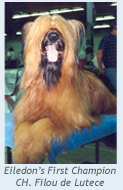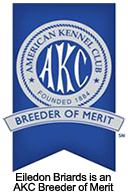 Since 1990, Eiledon Briards has worked to understand, promote, and encourage excellence in the breed.
We are just as proud watching a seven-month old puppy work sheep for the first time, as we are with any ribbon or accolade earned in the conformation ring. Form follows function and we strive to bring our dogs closer to the ideal standard of the breed in each consecutive generation. Our dogs have a strong working drive, and while they are not the dog for the faint of heart, they provide intelligent and challenging companions for the home, show ring, obedience, agility and herding arenas.
Eiledon Briards Breeding Program
We believe in a close relationship between breeders and dog owners. That belief leads to a lifetime relationship with owners of our dogs, for those who desire that kind of support.
If you have questions about our dogs, our breeding program, or the Briard in general, please feel free to contact us.